Ok, so everybody knows the Everly Brothers from their ubiquitous oldies hits like Cathy's Clown, etc, but for my money they were the original country-rockers. Don and Phil's parents were country stars from Kentucky so when these boys started their thing they were naturally tapping into some country roots. I've read here and there that the early hippy rockers like The Byrds, CS&N and Gram Parsons and the Burrito Bros. all worshipped the Everly Brothers' early rock n' roll hits, so its only natural that the Everly Brothers would fit right in when the country-rock scene blossomed in the late 60s. Well, they did and they didn't. I don't have it yet, but their 1968 "Roots" album is supposed to be a great example of their adapting to the new/old country-rock sound that they helped invent, but
this album from 1972
definitely finds the brothers stretching out in a country-rock style not unlike some of their followers.
Left to right: Paul Rothschild (producer), Phil & Don Everly
Some of their admirers even joined in on this all-star cast, including John Sebastien of The Lovin' Spoonful, David Crosby, Delany & Bonnie, and Chris Hillman among many others. The album was recorded in Sebastian's Laural Canyon home. The brothers cover Sebastian on the title tune, which is nice, and cover Delaney & Bonnie on the opening cut, but the three tracks here (and my three favorites) are all Everly originals. The heavenly Green River is possibly one of my favorite country-rock tunes of all time and will certainly make the cut for the forthcoming Weed, Whites & Wine compilation.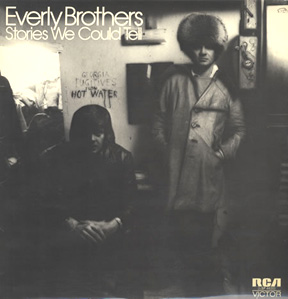 The Everly Brothers - Green River
The Everly Brothers - I'm Tired of Singing My Song in Las Vegas
The Everly Brothers - Up In Mabel's Room