Once again the Bay Area's bizarro weather is messing with me. Last week it was feeling very fall-like and the last few days it's been really warm. So I started prepping this post back when it was rainy and windy with the leaves departing their branches and accumulating in piles and on the sidewalks. I figure it's gotta be Fall-like somewhere else, so I'm going ahead with this post.
I remember working at Olsson's Books & Music in Washington D.C. and reading some Mojo or Q magazine top 50 list of the BEST ALBUMS OF ALL TIME and Van Morrison's "Astral Weeks" was definitely in the top 10 if not top 5. I picked it up and quickly got carried away by the emotion and otherworldliness of the recording. It's a special album that transports the listener to a strange and instantly nostalgic place, like a great film. For me the album reminds me of my year after college, living in Washington DC in the Mt. Pleasant neighborhood and walking up Irving Street on the way to work with the sidewalks damp with rain and about half of the leaves on the ground on the other half dangling on the verge of joining the others.
Van Morrison - Astral Weeks
The title track to this classic album really sets the tone for this sonic journey. It's not my absolute favorite, but hearing it prepares me for the 40 minute trip down Van's spooky, surreal and emotionally loaded memory lane.
Van Morrison - Cyprus Avenue
I could have gone with "Sweet Thing", which is probably my favorite tune from this album, but I figured everyone else felt the same, so I included this one.
Van Morrison - T.B. Sheets
The mystery of "Astral Weeks" is only heightened when you think that it came immediately after Van's first solo album, the one that produced the radio-friendly hit "Brown-Eyed Girl". Listening to the "Bang Masters" CD that came out decades later you can hear that these sessions produced an extremely wide range of recordings, such as the blues jam "T.B. Sheets". While its closer to the style and content as "Astral Weeks" it's singular in its own way with its funky groove and ad-lib lyrics from Van about visiting a girl friend who's sick with T.B. He feels he has to pay his respects, but being there with her depresses him and he can't leave soon enough. Scorsese used this song perfectly as the recurring theme song in his highly-underrated 90s drama "Bringing Out the Dead."
Van Morrison - Madame George (Demo)
If you know the "Astral Weeks" version of Madame George, you'll hear that this one is the perfect bridge between his Bang Sessions and the AW sessions. The lyrics are basically final, but the instrumentation is entirely different. It just goes to show what a unique recording AW is, as this version is more blues-based and more in line with everything else that Van had done with The Them or solo. This begs the question of why or who influenced Van to create the acoustic, string-heavy and nearly drumless sonic palette he used on "Astral Weeks"?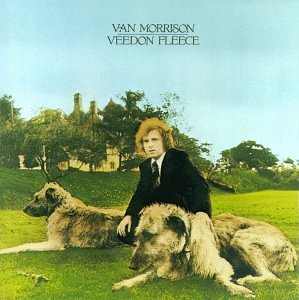 Van Morrison - Bulbs
After digesting and falling in love with AW I went looking for more of the same, but despite the greatness of his subsequent albums (mainly "Moondance") I came up empty handed . . . until my brother turned me on to the 1974 album "Veedon Fleece". Like "Astral Weeks", this album is a concept album with themes and lyrics being carried across multiple songs and no stand-out singles. I picked two of my favorites to share here.
Van Morrison - Fair Play