Apologies for the long delay in posts, but I go married a couple weeks ago and naturally that took up a lot of my time. Today we're listening to a few Rolling Stones' cover tunes from a broad spectrum of talent. The first tune is classic WW&W material as it comes from the godfather of the genre: Gram Parsons. The stones were first and foremost a blues-based rock band, but thanks to Keith's friendship with Gram Parsons they began incorporating more and more "country" influences into their music. I can't find the original quote anywhere, but if the anonymous internets are to be believed, Keith Richards confirmed to Barney Hoskyns that to Gram this song was "a logical combination between their music and our music."
Our other two examples come from the English country-side and Brazil where some varied musicians picked up on the universality of some of the Jagger/Richards songwriting and refitted their songs in more cosmic-country tones, ala Ronnie Lane's cover of the Exile on Main Street classic "Sweet Virginia" and Caetano Veloso's live cover of "Let It Bleed."
The Flying Burrito Brothers - Wild Horses
The story goes that Keith sent Gram a master of "Wild Horses" a year before the 1971 release on the Stones album "Sticky Fingers." According to Jagger & Richards this song was their attempt to write something in a Gram Parsons style. I remember reading somewhere that Keith asked Gram to not release the Flying Burrito Brothers version until after the Stones released their album. Thankfully Gram and the boys included it on their second album "Burrito Deluxe" against Keith's request because by the time "Sticky Fingers" was released in 1971, the Flying Burrito Brothers were no longer in existence. There's no question that the Stones' version is a classic, but to me the FBB version matches it, if not tops it with Gram's wavering ad plaintive vocals and the killer piano solo.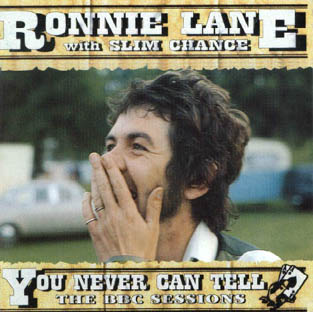 Ronnie Lane & the band 'Slim Chance' - Sweet Virginia
As a certifiable Ronnie Lane obsessive I had to go and buy every single Ronnie Lane-related release out there and this one came pretty late in the game but was well worth the wait. This 2CD set has a whole bunch of live and live-in-studio performances from the key years of 1973-76 or so. Most of the tunes on here are Lane originals, but this cover song really fits right in the Ronnie Lane mold especially given the original's rustic feel and acoustic instrumentation. What's funny about this one is that it was recorded for radio so the swear-words ("Got to scrape the shit right off your shoes") was changed to silence in one chorus and "brown" in the last chorus.
Caetano Veloso - Let It Bleed
I have no idea where this recording is from, but this tune surfaced on a 1999 Japanese compilation of rare Caetano Veloso tracks. In the mid-seventies Veloso started to regularly do English-language cover tunes on his albums, mostly of Beatles songs, but this is a rare Brazilian cover of a Stones song. It kind of drifts into a march tempo at the end. I can't say I've listened to Veloso's covers album from a few years back, but I can say the man has a knack for putting his own voice and style on other people's tunes. The first cover tune of his I heard was Bob Dylan's "Jokerman" from an early 80s live album of Veloso's.