The REAL
Gallagher & Lyle
are an unlikely pair of pop musicians and their success and fame didn't really manifest itself until more than a decade into their careers. I honestly don't know too much about them as my introduction to their work was through their participation in the
first incarnation of Ronnie Lane's band "Slim Chance."
Benny Gallagher and Graham Lyle have gone back and forth from being a duo to joining larger bands to being a duo again and their incorporation into Ronnie's band was after their second stint as a duo.
The album featured here is from 1972 and is the one right before they joined "Slim Chance." If you know Ronnie Lane's work, you'll recognize some of his style, or vice versa, in Gallagher & Lyle's self-titled album from 1972. The music is based in a country-folk format with a strong British (or should I say Scottish) sensibility and like Ronnie, most of their best songs have a fragile and melancholy vibe.
These guys are best known as songwriters (for Art Garfunkel and Tina Turner, among others) so their vocal chops are not always the most steller, but I kinda like the way they strain for the high notes in Broken Wings. These are the kind of songs that sound better around a roaring fireplace than they would on stage at a proper venue.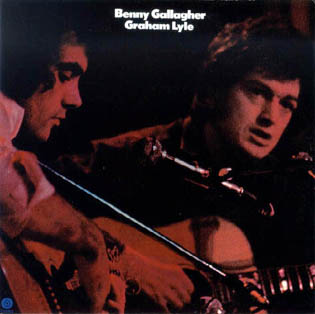 Gallagher & Lyle - Comfort & Joy
Gallagher & Lyle - To David, Charlie & Ian
Gallagher & Lyle - Great Australian Dream
Gallagher & Lyle - Broken Wings